PERFECT FOR BUSINESS AND RESIDENTIAL PROJECTS
ARTIFICIAL GREEN WALL APPLICATIONS
" To create a truly stunning, life-like artificial vertical garden, you need a green wall panel solution that's ultra-detailed, provides seamless coverage, and is fully customizable to your needs. "
RENOVATION/ RESTORATION
High-quality artificial green walls are becoming increasingly popular in commercial design from build out to renovation and restoration.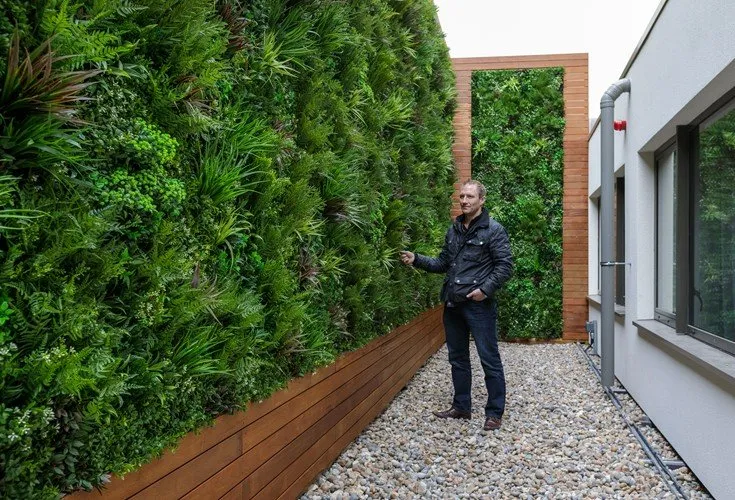 VISUAL SCREENING
Business is turning to artificial green walls indoors and outdoors for maintenance-free visual screening of HVAC, and other equipment and waste removal areas as well as privacy screening & biophilic design.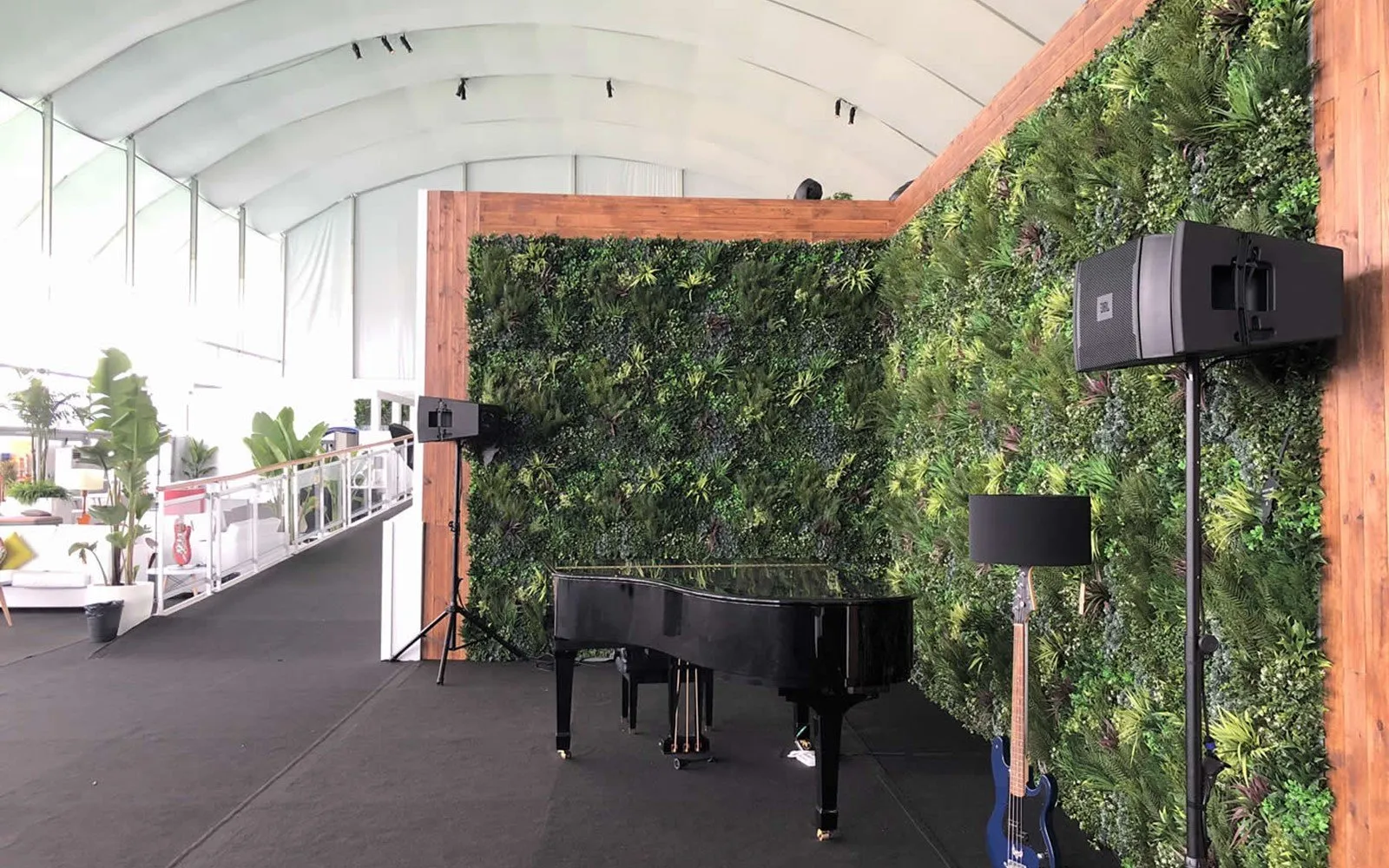 SOUND IMPROVEMENT
VistaFolia by VistaGreen, artificial green wall panels are good at reducing background noise as they act as sound-absorbing material — no matter if the sound is coming from outside, or if you're the one who's making it.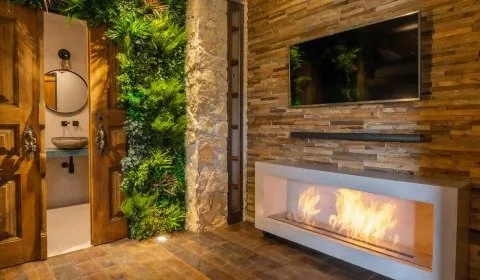 HEALTH & WELL BEING
Indoor artificial green wall installation is on the rise for all of the intrinsic benefits associated with biophilic design. Even photos of greenery have health benefits.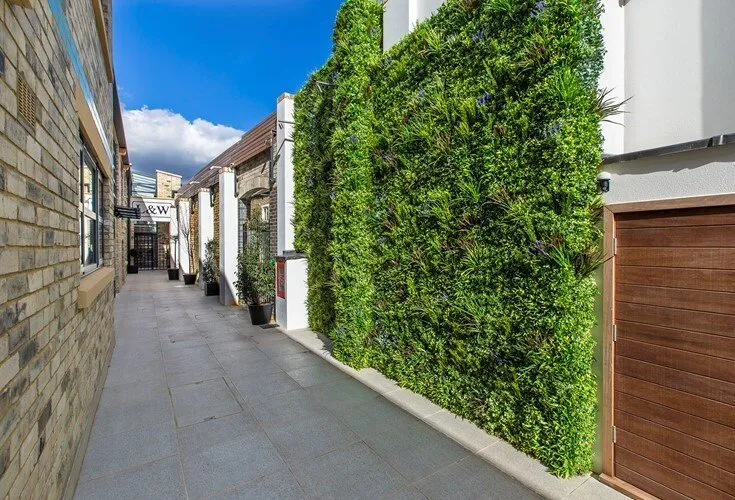 ENERGY EFFICIENCY
Outdoor artificial green wall application
REDUCED MAINTENANCE COSTS
Indoor artificial green wall for biophilic office design
This large scale residential green wall in Covent Garden was a long time in the offing. Because of Covid, the client wasn't able to return to the UK from his overseas residence and as a result, it was nearly 2 years until the project was realized. However, patience was rewarded and the final installation was amazing.
The client originally had a living green wall. Time spent away, combined with never-ending maintenance and ongoing costs for water, chemicals and replacement plants lead the client to source an alternative solution, better suited to his needs.
Vistafolia was able to provide a complete solution for the client. Our design team took care of the specifics and our installation specialists completed the work in 2 weeks. They were also able to provide the artificial grass as well. The client had spoken with other companies about their vision, but none were able to match Vistafolia for quality, and most could not offer a full start to finish service.
For the design of the green wall, the client opted to use different varieties of Color and Texture Boxes throughout, utilizing Vistafolia's lush green for the main section, and adding Delicate White and Soft Lavender options for the lower faux green wall area.
Now, the client has a gorgeous replica living wall that is green all year round, and has the peace of mind they need when traveling that it will stay looking its best. Our 5-year warranty protects our artificial foliage against fading in the sun, and our best-in-class fire rating offers reassurance about the quality of our green walls, even in the trickiest conditions.
Replica living walls are more popular now than they've ever been and as demand for them grows, Vistafolia will continue to lead the way. Our dedicated research team continue to show of what is possible with artificial plants.
Are you looking to add your own residential green wall. Get in touch with our team of experts today and let us help you get started on your own Vistafolia journey.
California Poolside Green Wall Installation
If you're one of those lucky homeowners to have a pool, whether indoor or outdoor, then you already know the value of having a relaxing space to unwind and cool off in the water. Unfortunately for this client in Venice Beach, California though, the large white wall adjacent to the poolside bar wasn't really the urban oasis they were looking for. And so, they decided to enlist Vistafolia to bring the space to life with the installation of a stunningly beautiful faux green wall.
Immediately away, this previously bland element of the pool area suddenly became the ultimate in luxury. Vistafolia's hand-designed solutions completely transformed the wall with an absolute minimum of fuss. Our expert installation team were able to install the artificial green wall without causing any disruption and customised the completed feature to suit the client's tastes. Looking for bursts of color throughout, the customer opted to include artificial flowers from our Spring Pink, Soft Lavender and Delicate White Color Boxes, as well as a selection of faux foliage from our Lush Green Texture Box.
Our green plant wall solutions are designed to stand the test of time once they've been installed. That's why everything we sell is fully UV stable, with our ultra-realistic foliage tested to the toughest conditions on the market, and coming with a market-leading 5-year warranty to offer every single client complete protection and total peace of mind.
Want to add your own replica living wall to your garden? Would you like to find out more about Vistafolia's amazing products? Get in touch with our team of experts today and get started on your artificial green wall journey.