Do you want to add a touch of nature to your outdoor space, but don't have the time or resources for regular upkeep? Outdoor Artificial green wall panels are the perfect solution for you. Not only do they add a beautiful aesthetic appeal to any setting, but they also require minimal maintenance and remain green and vibrant year-round. In this post, we will explore the key features of top-rated outdoor green wall panels and how quality determines their longevity. 
We will also discuss why Vistafolia panels are the ideal choice for your outdoor green wall project. Join us as we dive deeper into why outdoor artificial green walls are becoming the preferred choice among designers and homeowners alike. 
Enhancing Aesthetics with Artificial Greenery and Foliage

These panels bring a touch of foliage to any area, creating an inviting atmosphere that lasts. With minimal fading, you can achieve a natural look that suits your style. Add greenery to common areas, reception spaces, and other outdoor settings without the need for watering or maintenance. Experience the beauty of a living wall without the hassle. 
Enhance outdoor aesthetics with captivating artificial greenery. Create a low-maintenance green wall using premium artificial plants. Transform any outdoor space into a vibrant and lush environment. Enjoy the beauty of natural plants without the hassle of regular upkeep. Bring the vibrant colors and movement of greens to urban areas. Admire the realistic shading that adds depth and dimension. They are great for locations like Phoenix that have year-roud sunshine and limited water.
UV Protection for Long Lasting Vibrancy

Preserving the colors of your outdoor green wall panels is crucial for long-lasting vibrancy. By investing in UV-protected artificial greenery, you can prevent fading and discoloration caused by prolonged sun exposure. Choose Vistafolia panels specifically designed to resist the damaging effects of UV rays, ensuring that your green wall maintains its natural beauty for years to come. With UV protection, your artificial green wall will remain vibrant and captivating, for years to come. 
Freeze/Thaw Testing for Extreme Climate Resilience
To ensure the resilience of our wall panels in extreme climates, we have subjected them to rigorous  freeze/thaw testing. This testing guarantees that the panels can withstand cycles of freezing and thawing without any damage or structural integrity issues. By investing in panels that have been tested and proven to withstand temperature fluctuations, you can protect your green wall from the potential damage caused by frost and ice. Choose outdoor green wall panels that are built to endure extreme weather conditions to ensure their longevity in the long run. 
How Quality Determines Longevity in the Best Outdoor Artificial Green Wall Panels
Investing in high-quality artificial green wall panels is essential for long-lasting performance. Choose panels made from durable materials that can withstand weathering over time. Consider the quality of the artificial plants used to ensure they maintain their vibrant appearance. Opt for panels specifically designed to endure outdoor environments. By choosing panels with superior craftsmanship and longevity, you can enjoy the beauty of natural plants in an artificial setting in the long run. 
Why Choose Vistafolia Panels for Your Outdoor Green Wall Project?
Experience the highest quality and performance with Vistafolia panels. Create a stunning green wall with our durable, beautiful panels that are perfect for commercial & residential projects alike.
Superior Quality Ensuring High Performance

Vistafolia panels are renowned for their exceptional quality and durability, guaranteeing outstanding performance. Crafted with meticulous attention to detail, these panels go above and beyond to deliver long-lasting aesthetics. When choosing a green wall solution, it's crucial to invest in a product that surpasses expectations. With Vistafolia, you can trust in a reliable and high-quality outdoor green wall that will enhance any space. Experience the superiority of Vistafolia panels for a truly exceptional performance that stands the test of time. 
Where Can You Install These Outdoor Green Wall Panels?
Our green wall panels are simple to install and can be mounted on almost any surface. Transform any outdoor space with realistic green wall panels. Whether it's a residential garden or a commercial setting, these panels enhance the aesthetics of common areas, reception areas, or outdoor seating areas. From balconies to rooftop gardens, artificial green walls bring nature's beauty without the need for maintenance or watering. 
Applications in Residential and Commercial Settings
Artificial green wall panels offer versatility and aesthetics for both residential and commercial settings. 
Enhance outdoor events or weddings with stunning backdrop of faux green walls. 

Restaurants, cafes, and hotels can benefit from the ambiance created by high-quality natural plants. 

Corporate offices or retail spaces can be brought to life with maintenance-free shadings.

Residential balconies or terraces gain privacy and a touch of nature.
What Makes Outdoor Artificial Green Walls a Preferred Choice?

Artificial green walls offer a variety of benefits that make them the preferred choice of homeowners and business owners alike.
Enjoy the year-round beauty of green plants with outdoor artificial green walls, regardless of the climate or weather conditions. Say goodbye to the hassle of watering, trimming, or maintaining live plants. 

Enjoy a lush and green appearance without the worry of plants dying or wilting. Save time and money with maintenance-free outdoor green wall panels. 

Artificial green walls eliminate the need for water, fertilizers, or pesticides. 

Benefit from UV protection and durability to preserve the natural beauty of outdoor spaces with long-lasting artificial greenery.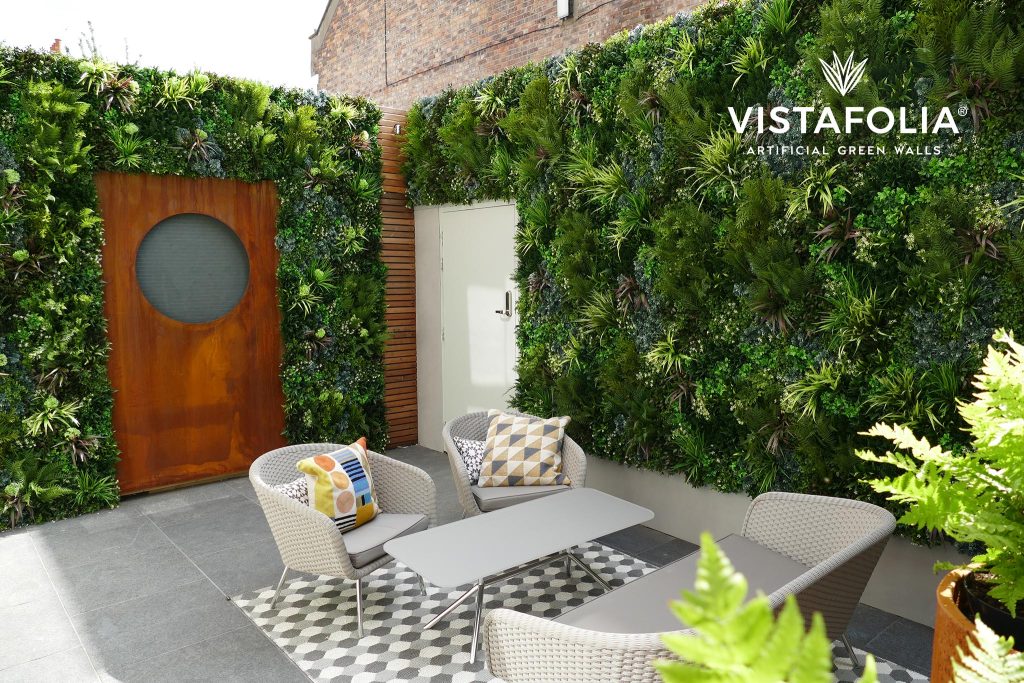 In conclusion, outdoor artificial green wall panels offer a perfect solution for enhancing the aesthetics of any space. With their durability and UV protection, they can withstand harsh weather conditions and maintain their vibrant appearance for years. The freeze/thaw testing ensures their resilience in extreme climates. These panels can be installed in both residential and commercial settings, adding a touch of greenery without the hassle of maintenance. If you're looking to transform your space, get in touch to explore how an artificial green wall may be perfect for your solution!