Are you ready to transform your workspace into a thriving haven of creativity and well-being? We're delighted to announce special-price pre-orders of the revolutionary Foliascreen are now open. This is your exclusive opportunity to secure the first shipment of this groundbreaking product before it's sold out. Don't miss your chance—contact us today to place your pre-order and guarantee access to the next availability of Foliascreen.
Elevate Your Space with Foliascreen
In a world where dull, grey office partitions have long been the norm, Foliascreen emerges as a breath of fresh air. This game-changing innovation from Vistafolia takes the concept of room dividers to a whole new level. Instead of mere partitions, Foliascreen introduces a vibrant, creative, and lively atmosphere into your workspace. It's more than just an artificial green wall partition; it's a statement piece that rejuvenates your environment and infuses it with the beauty of nature.
Let's explore the remarkable features and benefits that set Foliascreen apart:
Tired of worrying about watering schedules and plant care? Foliascreen brings the great outdoors indoors, without the tedious maintenance. Revel in the lush greenery without the hassle.
In the world of business, returns matter. The Foliascreen isn't just about aesthetics; it might hold the key to improving your bottom line. It's a smart investment that keeps on giving.
3) Sound Absorption Qualities
The fusion of acoustic foam and sound-dampening Vistafolia panels creates the Foliascreen's unique ability to control volume. Say goodbye to noisy distractions and hello to a more focused workspace.
Safety and peace of mind are paramount. The Foliascreen is designed with fire retardants that meet the BS 5852 standard. The UV-stabilized and fire-rated artificial foliage adds an extra layer of assurance.
5) Modular & Reconfigurable
Adaptability is essential in today's dynamic workspaces. Foliascreen comes with lockable castors, allowing you to effortlessly redesign your area according to your evolving needs. Embrace flexibility with minimal effort.
Biophilic design is more than just a trend—it's a philosophy that enhances cognitive function, physical health, and psychological well-being. The Foliascreen is your gateway to implementing biophilic design principles into your environment, creating a space where productivity and vitality thrive.
Foliascreen is available in multiple colors to match your workspace's current decor.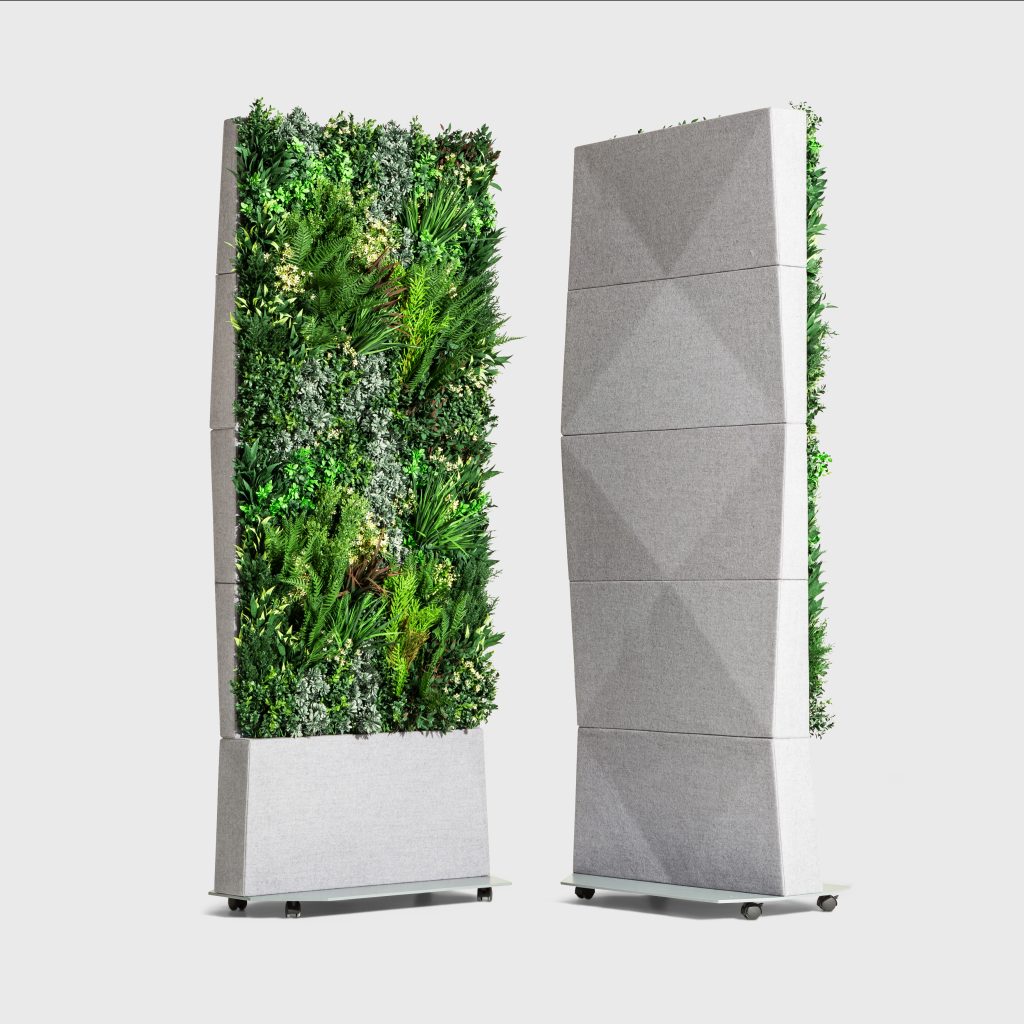 Pre-Order Now for Special Pricing
Excited about the possibilities that Foliascreen brings? Don't wait for the first shipment to run out! Get ahead by pre-ordering your Foliascreen today. Contact us now to ensure you're among the first to experience the transformational power of Foliascreen in your workspace.
The Foliascreen Pre-Order Sale
Your chance to redefine your workspace with the vibrant allure of Foliascreen is here. With the first shipment anticipated to sell out fast, this special-price pre-order sale ensures you won't miss out on the opportunity to revolutionize your space, and save some cash. Reserve your Foliascreen now and be at the forefront of modern workspace design and biophilic transformation.