In today's fast-paced and sometimes sterile business environments, creating a harmonious and visually appealing workspace has become essential for employee well-being and productivity. Introducing Foliascreen, the latest innovation from Vistafolia, designed to elevate your environment and transform your workspace with the perfect blend of nature and modern design.
A Burst of Color and Versatility

Foliascreen is not your average room divider; it's a statement piece that brings life and vibrancy to any space. Crafted from high-quality artificial green wall panels, Foliascreen boasts ultra-realistic foliage that adds a burst of lush greenery, transforming bland office partitions into captivating works of art.
With two versatile sizes to choose from, Foliascreen fits seamlessly into various commercial environments. Whether you're looking to add a touch of greenery to smaller meeting spaces or create a grand statement in larger open-plan offices, the options are limitless.
The Power of Biophilic Design
Nature-inspired elements in the workspace have been proven to enhance employee well-being, boost creativity, and promote productivity. Foliascreen is the epitome of biophilic design, offering the benefits of bringing the outdoors indoors without the hassle of maintenance. Say goodbye to watering schedules and wilting leaves; Foliascreen by Vertically Green requires zero maintenance, making it the ideal choice for busy businesses seeking an effortless green solution.
Two Sizes for Ultimate Customization
Having Foliascreen available in two different sizes, full height and standard height, is a game-changer for businesses. It gives you the freedom to choose what suits your office vibes best. The full-height option adds that wow factor, making a grand statement in big, open spaces. Imagine stepping into your office and feeling surrounded by a lush, green paradise—it's like bringing the outdoors right inside. And for those cozy meeting rooms or smaller areas, the standard height is a perfect fit. It adds just the right touch of greenery without overwhelming the space. With these options, you can create a workspace that's uniquely "you" – stylish, vibrant, and buzzing with creativity.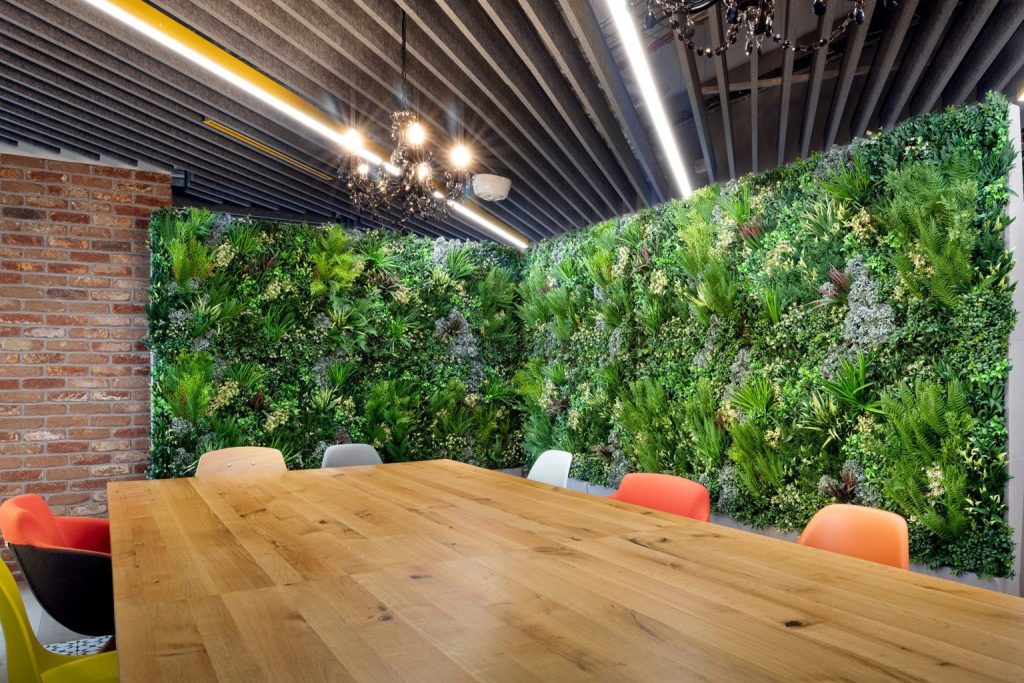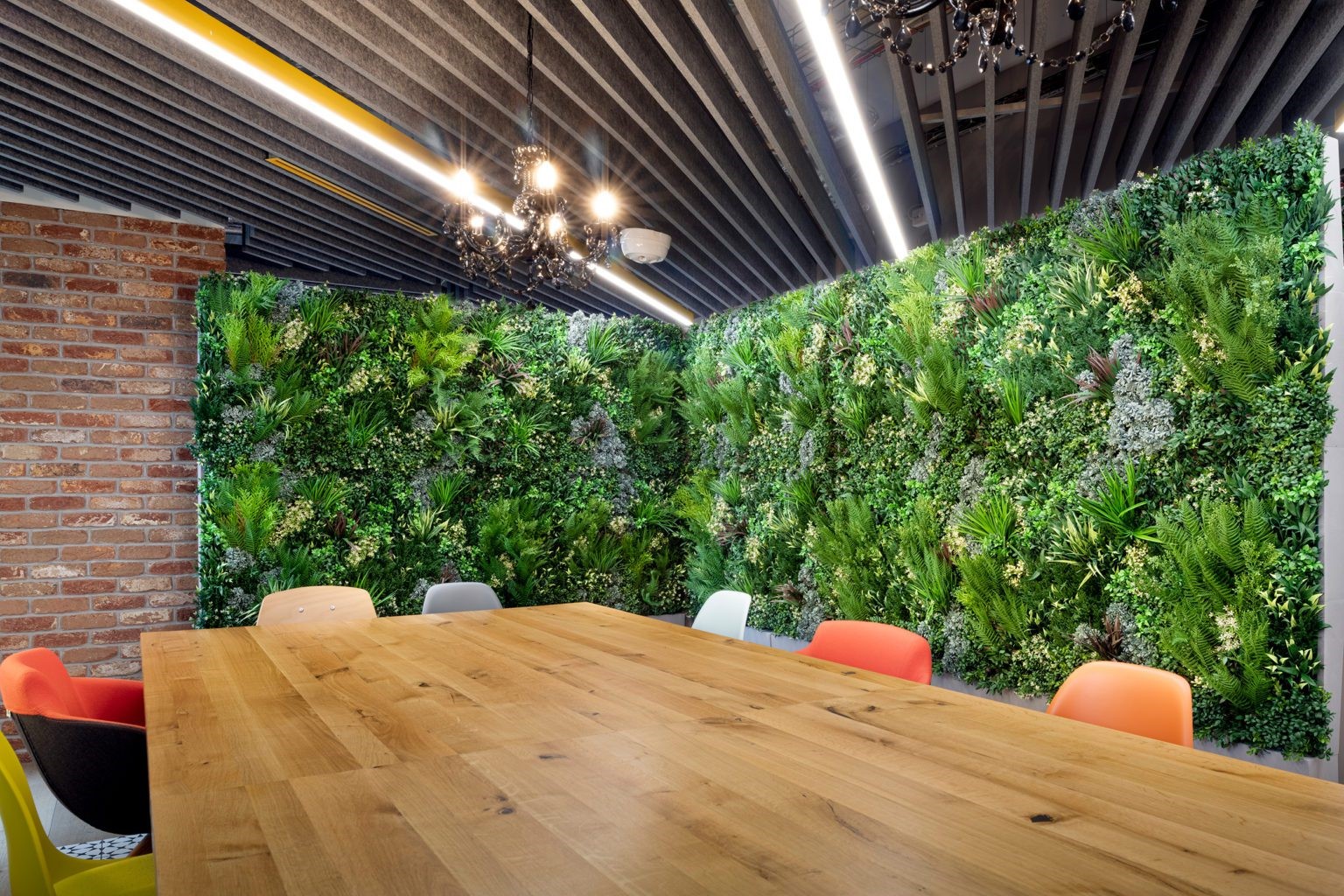 Enhanced Functionality for a Thriving Workspace
Beyond its stunning aesthetics, Foliascreen delivers a range of practical advantages that set it apart from traditional office dividers:
1. Sound Absorption
The acoustic foam combined with Vistafolia's sound-dampening artificial green wall panels effectively control noise levels, creating a peaceful and productive working environment.

2. Fire Safety Assurance
Safety is paramount in any workspace. Foliascreen features fire retardants meeting the BS 5852 standard, providing added peace of mind to business owners.

3. Easy Redesign
Embrace flexibility with Foliascreen's artificial green wall partition modular and reconfigurable design. Lockable castors allow effortless mobility, enabling you to adapt your space according to evolving needs.
4. Cost-Effective
A smart investment, Foliascreen partition screen not only enhances aesthetics but also contributes to your bottom line by reducing long-term maintenance costs.
Seamless Integration with ISO Quality Standards

The Foliascreen plant screen is built to last, adhering to ISO quality standards and REACH & ROHS testing. With a 5-year warranty and UV & IFR technology, you can trust in its durability and weather-resistance, ensuring it remains a stunning focal point for years to come.
Linking Nature's Beauty to Your Workspace
As an artificial green wall partition or plant screen, Foliascreen by Vistafolia, is an innovative product that embodies the essence of biophilic design and the transformative power of nature. Experience the beauty and benefits firsthand by exploring our video and gaining valuable insights into the versatility and vibrancy that Foliascreen brings to your workspace.
With Foliascreen, you're not merely dividing spaces; you're cultivating a thriving, collaborative, and connected workspace that inspires productivity and well-being. Step into a greener future with Foliascreen by Vistafolia.
Embrace the Vibrance of Foliascreen
Don't miss out on the opportunity to elevate your workspace with the brilliance of Foliascreen. Discover how this artificial green wall partition can revolutionize your office's ambiance, design, and employee experience. Enhance your environment, boost productivity, and infuse your workspace with the beauty of nature.
Explore Foliascreen's possibilities and take the first step towards creating a greener and more vibrant workplace.
Experience the harmony of nature and design in your office or workspace. Click here to check out the Foliascreen product page to learn more and purchase.